Message from the Director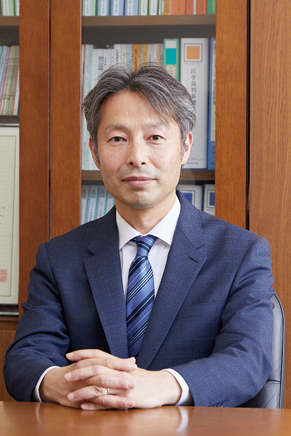 Hitotsubashi University School of Law aims to nurture legal professionals who are well- versed in corporate legal practice, have a broad international perspective, and are sensitive to human rights issues. In order to achieve this goal, the School of Law has established a Business Law Course at its Chiyoda Campus, teaches a variety of international subjects including some taught in English, and has implemented distinctive initiatives such as the Human Rights Clinic.
 The School of Law has kept to a scale allowing its academic staff to give full attention to every student, fostering close relationships between staff, students, and graduates and enhancing their ability to engage in free and vigorous discussions with each other. The School has also worked closely with the business world to improve the fundamental academic skills of our graduates to the level expected of them as personnel who will be actively engaged internationally.
 In addition, we have reviewed our curriculum to respond to various changes in the system, such as the establishment of the Legal Profession Course in the Faculty of Law, the introduction of a system for early graduation, and the ability to sit the National Bar Examination while still enrolled at the School of Law. Through these reforms, we have addressed the needs of those who wish to enter the legal profession at an early stage, while at the same time striving to create a system where those who have awoken, through various twists and turns, to the sheer enjoyment of legal studies can climb the ladder to the legal profession without undue difficulty.
 Since its establishment in 2004, the School of Law has produced many legal professionals with a high level of expertise and broad outlook. Many of our graduates have gone on to play leading roles not only in the legal profession, but also in other areas of society. As expressed in our Diploma Policy, our staff will continue to do their utmost to nurture graduates who, as legal professionals, will actively tackle the legal problems in Japanese society, evaluating the current situation from the perspective of justice based on legal principles and proposing realistic solutions to them – in some cases, with innovative ideas that will break current deadlocks.
 The doors of our law school are wide open to all people from diverse backgrounds. We look forward to meeting those of you who have high aspirations to become good legal professionals and are prepared to study together in friendly competition.
Takeshi Ishida
Director, Hitotsubashi University School of Law